Leiston Abbey dig unearths 'poker chip' and curse tablet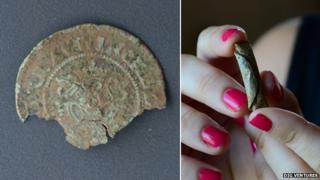 An archaeological dig at an abbey ruin in Suffolk has unearthed a medieval 'poker chip' and a curse tablet.
Ninety people paid to take part in a two-week excavation at Leiston Abbey.
A 'Nuremburg jetton', which would have been used for gaming was found along with the metal curse tablet, which is expected to contain a message when it is unrolled.
The Dig Venture project ends this weekend but experts said they hoped to continue the dig next summer.
Participants searched for artefacts and information about the Premonstratensian abbey, which was founded at nearby Minsmere in 1182 before moving to Leiston in 1363.
Industrial remains
Maiya Pina-Dacier, Dig Venture's community manager, said of the finds: "The jetton was used as an informal currency and it is evidence people were gaming."
Curse tablets were believed to be of Romano-British origin. They were made of lead or pewter and were rolled-up containing an inscribed curse of someone who had wronged the author.
Dig Ventures has returned for a second year in its search for evidence of industrial remains, such as a mill, next to the ruins.
Brendon Wilkins, project director, said: "We're starting to build a picture up of what the lumps and bumps in the field were.
"We've found evidence of large post-built structures and a platform with further structures probably underneath it, but what they were for is still a bit of a mystery. We hope to return next year to dig larger-scale excavation trenches."