Road safety chairman caught speeding and using mobile phone while driving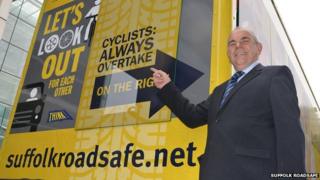 A councillor who promotes road safety messages admitted he was as "guilty as anybody" after being caught speeding and driving while using a mobile phone.
Graham Newman, chairman of the Suffolk RoadSafe partnership, said the "slip-ups" happened months apart.
The Conservative denied they made his position untenable and said he wanted people to "learn from his experience".
"They were genuine slip-ups," said Mr Newman, who has responsibility for roads. "That doesn't make it right."
In an interview with Mark Murphy on BBC Radio Suffolk, the Suffolk county councillor said he was cautioned after being seen by a police officer checking emails on his phone.
'Cross with himself'
"It comes down to us in the end to take responsibility for what we do behind the wheel of a car and I'm as guilty as anybody else," he told the presenter.
He admitted during the interview that he was "cross with himself" and said: "I try not to do it now."
After being approached following the interview, Mr Newman said he had used "the wrong form of words".
"I always make sure my mobile phone is switched off," he said. "I admit what I did was wrong. At any point, I know you shouldn't be using a mobile phone while driving."
He said the incident happened in Star Lane, Ipswich.
Mr Newman went on to admit being caught driving at 37mph in a 30mph limit in Playford Road, Ipswich, for which he completed a speed awareness course.
Mark Ereira, the Green and Independent group leader on the county council, said: "I admire Mr Newman for admitting his errors so openly and apologising with such humility.
"It is important for those in elected positions and the public eye to acknowledge mistakes and then we can all move on.
"We can all learn from his unfortunate experience; and ensure we all do our best to be as safe on the roads as possible so as not to compromise the safety and wellbeing of others."