Gypsy and traveller sites to be created by Suffolk councils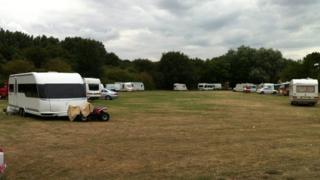 Suffolk is to get three new transit sites for gypsies and travellers, and local authorities have begun a process to identify suitable land.
Suffolk County Council said it was a response to 210 unauthorised encampments being set up since 2007.
The sites would be permanent and travellers would be able to stay on them for up to three months.
The National Travellers Action Group welcomed the news, but hoped it would not become a "political football".
Suffolk has no short-stay stopping sites and the authorities said it was a reaction to illegal encampments by travellers, such as those who lived in the 15 caravans which moved from Bury St Edmunds to Felixstowe last year.
'Political football'
Cliff Codona, chairman of the National Travellers Action Group, said: "The money is there for local authorities to get this issue cleared up, so they just need to get on with it and have the good will to do it.
"Unfortunately, it could become a political football this side of a general election, which isn't fair to travellers when similar schemes have been successful in other counties."
The sites in Suffolk would have about eight pitches each and travellers would have to pay rent.
Keren Wright, gypsy and traveller liaison officer for Suffolk and Norfolk county councils, said: "We're aiming towards having a long-term solution and we're looking at where regular [unauthorised] sites have been.
"I'm confident we can identify a list of sites, but I can't state whether we're confident we can get planning permission."
Suffolk County Council said it was working with the district councils and a public consultation on the potential sites would take place in August and September.