Ipswich drug dealer Johnny Callie wins deportation battle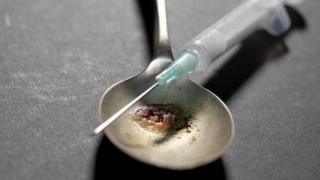 A convicted drug dealer, who claimed he could not afford health care in his native United States, has won his fight to stay in the UK.
Johnny Callie, 64, of Ipswich, was jailed for seven years in 2007, for conspiracy to supply heroin and crack cocaine.
He had been fighting deportation on the grounds both he and his partner relied on NHS health care.
The Home Office said it was disappointed by the ruling.
The tribunal, held in London, heard Callie, who has two British children, had been a "major part" of a gang supplying drugs in Ipswich.
The government was contesting a previous tribunal hearing, which ruled Callie had the right to remain in the UK following his release from jail in 2010.
Callie's solicitors cited a letter from the probation service, which said he had "demonstrated good insight into the impact of drug offences [and] he did not demonstrate any attitudes that would lead to further offending".
'Spurious appeals'
The tribunal heard Callie, of Downside Close in Ipswich, had diabetes and needed treatment for a knee condition, while his partner had depression and anxiety and could not leave home without him.
His legal team argued the couple was "unlikely" to be able to afford medical insurance in the USA and had a right to a family life in the UK, under Article 8 of the European Convention of Human Rights.
The Home Office said it was "disappointed" by the latest decision and would appeal against it.
"We firmly believe foreign nationals who break the law should be deported," a spokesman said.
"Through the recently passed Immigration Act, we are making it easier to remove people from the UK and harder for individuals to prolong their stay with spurious appeals, by cutting the number of appeal rights from 17 to four.
"It also ensures judges deal with Article 8 claims in the right way - making clear the right to a family life is not regarded as absolute and unqualified."