Reydon cattle escape halted by Southwold community matron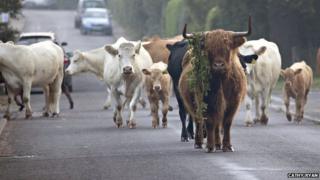 A community nurse awoke to find a herd of escaped cattle trotting past her house heading for a seaside town in Suffolk.
Cathy Ryan saw between 20 and 30 animals travelling along Lowestoft Road in Reydon, towards Southwold.
She said they split into two groups, but she managed to corral them into a field using a stick.
Suffolk Police arrived to help keep them there until the field was secured and said no damage was caused.
Ms Ryan, who is a community matron at Southwold Surgery, said she was about to go out for her Sunday morning run at 05:00 BST when she heard a noise and saw the herd running down the road, wandering in and out of gardens.
'Securing the field'
"I'm sure in Yorkshire or Wales it's a normal sight, but not here," she said. "What Southwold would have made of it if they'd gone the extra mile, I don't know, but Gun Hill would have made great grazing.
"I wasn't scared of the cattle, but I was more scared there was going to be an accident on what is a dangerous bend.
"Afterwards we wondered if they had set off a week early for Reydon's Brass on the Grass event or were even trying to beat the traffic and get to next weekend's Latitude Festival."
She put on flip-flops and a jacket over her pyjamas and spent about an hour getting the cattle back into their field.
Police said they had given the landowner advice about securing the field.