'Significant' Suffolk seal find declared treasure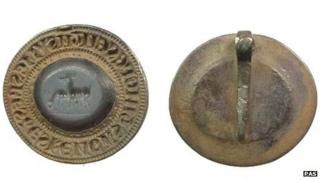 A silver seal matrix uncovered by a metal-detecting enthusiast is a "significant find", experts have said.
The oval-shaped item, featuring an engraved Roman gemstone mounted within a Lombardic inscription, was used to emboss a wax letter seal.
The seal, found in the area of Saxmundham, Suffolk, was declared treasure at an inquest in Lowestoft.
The item has yet to be valued and details of the exact of location of the find have not been revealed.
It dates from the 13th or early 14th Century.
'Higher status'
Ian Richardson, from the British Museum, said the find was "significant" because it contained silver.
"The majority of seals were made from copper alloy or lead. It's more unusual to find one made of silver and that makes it more significant," he said.
"It would suggest the person sending the letter was of a higher status."
The seal would have been used to indicate the note being sent was confidential, Mr Richardson said.
Experts say a silver seal matrix was usually the property of a person who was educated, literate and carried some wealth.
The seal includes a gemstone that portrays a pair of antelope - creatures frequently depicted in Roman art.