Ipswich v Norwich derby: Police reverse kick-off plans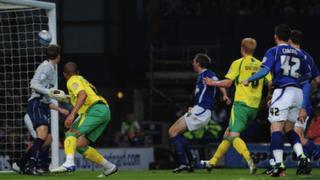 Police have decided against recommending the East Anglian football derby is played on a day when trains services face severe disruption.
Norwich City and Ipswich Town fans criticised moves by Suffolk Police to switch the game at Ipswich's Portman Road ground from 23 to 24 August.
It emerged engineering works would mean a lack of trains.
Asst Chief Constable David Skevington said trains were "an issue" and "would restrict the ability to travel."
Suffolk Police met with "interested parties" again on Friday and is now recommending the match takes place on 23 August with a 12:15 BST kick-off, when the trains are running.
Robin Sainty, spokesman for the Norwich City Supporters Trust, said: "We were furious, because there are disrupted rail services to Ipswich for fans travelling from Norwich and London.
"We're pleased it looks like it will now be played on the Saturday, but we still don't see why it can't be a 3 o'clock kick-off."
The Football League originally scheduled the game for 15:00 BST on the Saturday, prompting Suffolk Police to request a 12:00 BST kick-off on the Sunday.
The force said there had been 19 arrests and 13 ejections at Portman Road when the teams met in April 2011.
Norwich City fans complained about their treatment that day.
Carl Day, member of the Ipswich Town Supporters' Trust, said: "I'm pleased the game is back on the Saturday. I can understand the early kick-off as this reduces the time for people to go drinking, but 90% of the fans, both Ipswich and Norwich, are genuine supporters and just want to be there to follow the team."
Mr Skevington said: "A lunchtime kick-off is preferred because there are fans out there who drink to excess and cause issues and if we can cut down on that drinking time, that makes it a much more pleasurable and safer event for fans."
The Football League will now consider the new date and kick-off time recommended by Suffolk Police.