Ex-Tostock council leader gets 'horse rage' driving ban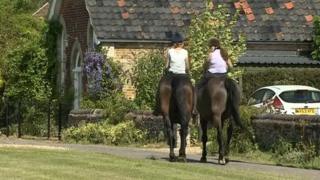 An ex-council chairman has been banned from driving after she drove her car towards two women and a horse in a row about riding it on a Suffolk village green.
Sheena Waitkins, 66, had confronted the pair in Tostock in September and was found guilty at Ipswich Crown Court earlier this year of dangerous driving.
She has been banned from driving for 12 months and fined £200.
Waitkins was chairman of the village's parish council until May.
The court heard the argument had begun on the village green and continued later as Alison Duncan was riding off with her pregnant daughter Eleanor Goffin walking with her.
'I was petrified'
Waitkins drove up behind them and continued the argument.
Ms Goffin said: "She came up so fast I had to put my hands on the bonnet and the whole thing carried on around a blind bend.
"I was petrified and could hardly get my phone out to dial 999.
"I was nearly nine months pregnant and I feared for myself, the baby, my mum and the horse which could have bolted."
Waitkins, who had lived in Tostock for 25 years, denied she was a "self-appointed guardian of the green", but had told the couple their horse was damaging the grass.
She admitted she had driven alongside them to talk to them again, but had not revved her engine.
She denied dangerous driving, but a jury found her guilty after a two-day trial.