Facebook revenge for Lowestoft poor parking praised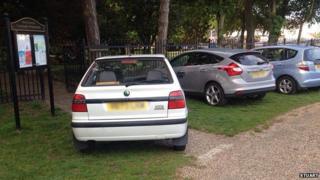 A council has praised a parking campaigner who publishes images to shame people he considers bad drivers.
Stuart, who wishes to remain anonymous, said parking in Lowestoft, Suffolk, had become so bad he decided to carry out a "public service".
With his page Park It Right Lowestoft gaining hundreds of likes, he hopes the photos will make people think twice.
Waveney District Council said: "Any public support for considerate parking can only be a good thing."
Stuart said he set up his Facebook page after regularly having to avoid a pick-up van and trailer parked on a kerb.
"There's never any parking wardens around and the whole of Lowestoft seems to be getting worse", he said.
"Some of my friends and family think I shouldn't be bothering, but some of the parking is just dangerous and selfish and it's annoying."
He said some photos had been handed to his local police community support officer (PCSO).
Suffolk Police has yet to comment.
A Waveney District Council spokesman said: "We have regular patrols to monitor parking in all parts of the district.
"However, it is not always possible to witness and take action against every example of bad or illegal parking.
"Any public support and awareness for considerate parking can only be a good thing and if people wish to report incidents to us they can call us or look up 'nuisance parking' on our website."