Mildenhall Paul Bone murder: Andrew Turner jailed for life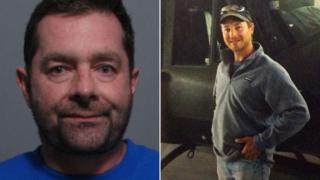 A man who stabbed his friend to death after inviting him to his house for a pre-Christmas drink has been jailed for life for his murder.
Paul Bone, 40, visited Andrew Turner in Pembroke Close, Mildenhall, in December and the pair had an argument.
Ipswich Crown Court heard Mr Bone was stabbed in the heart.
Turner, 50, who was found guilty on Tuesday, was told he would serve a minimum of 17 years in prison.
Mr Bone, from Mildenhall, was found slumped in the doorway of Turner's home in the early hours of 20 December by a neighbour who called police.
In a statement released after the trial, Mr Bone's family said he was "deeply missed".
"His untimely death in such tragic circumstances has profoundly affected us all," it said.
"The last six months leading up to the trial have been horrific, however justice has now been served and Paul's mum Linda can now slowly attempt to come to terms with his death.
"Paul was a loving and generous man who always had time for everybody else especially those who were less fortunate than himself."