Suffolk museum's US-based researcher traces families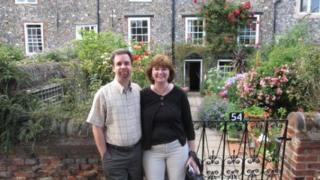 An American woman who helped solve the mystery of brick etchings by US servicemen stored in a Suffolk museum has said it gave her "such pleasure".
Donna Goldbach-Martin, 52, is helping Norfolk and Suffolk Aviation Museum trace the families of the men who served in East Anglia in World War Two.
It was her Norwich-based brother who suggested she used her family history research skills to help the museum.
Ms Goldbach-Martin, from Edison, New Jersey, has traced 18 families so far.
The real estate company office manager's involvement with the museum began two years ago.
Her brother Mark Karaczun, told her about the Flixton museum's failed quest to find the families of 47 US servicemen who had etched their names on bricks at a bomb depot.
He knew she had helped her boss find almost 200 US Marines he had served with in Okinawa, Japan in 1959 and thought she would be interested in the story.
She said: "To begin with I'd be doing a couple of evenings a week.
"But my problem is once I start, I can't stop, then I wouldn't be able to sleep - so I'd had to force myself to just do it at the weekend."
She developed her research skills tracing her parents' families, who were originally from Poland and were displaced during the war.
Ms Goldbach-Martin used websites like Ancestry.com and findagrave.com - and was also able to use consumer data bases and tax records for house sales, available to her through her employer, to trace the families of the servicemen.
She said: "It's like a giant puzzle, trying to piece the sections together to see what fits.
"I am happy to reconnect the soldier's descendants with a tangible part of his past, sometimes a part he didn't speak much about."