Bury St Edmunds waste transfer station relocation proposal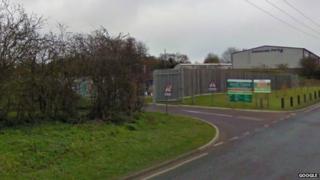 A new site is being proposed for a waste depot in Bury St Edmunds after residents began a legal fight against it being built.
Suffolk County Council originally voted to build a waste transfer station at Rougham Hill.
A group of residents applied for a judicial review of that decision, which will take place in July.
St Edmundsbury Borough Council is now proposing to spend £100,000 buying an alternative site.
The Conservative-run county council voted last year to put the waste transfer station, which would handle up to 95,000 tonnes of waste a year, next to its existing household waste recycling site (HWRC).
Contested review
That decision was challenged by some local residents who claimed it would lead to pollution and too many extra lorries.
The judicial review is being contested by the county council and is due to take place on 9-10 July.
St Edmundsbury, which is also controlled by the Conservatives, opposed the county council's plans and is proposing to spend up to £100,000 buying land to create an alternative site.
The borough council said it would be able to move its existing waste collection depot on Western Way to the new site, and the county could move its HWRC there as well.
St Edmundsbury council leader John Griffiths said: "We hope to announce our preferred site very soon, but our ambition is clear - not only do we want an alternative waste transfer site to Rougham Hill, but we want to move our depot operations to that new site."
The borough council is due to vote on setting aside £100,000 to buy land for the new site on Monday.
A Suffolk County Council spokesman said it would be working with St Edmundsbury to consider "alternative sites based on their merits and what is in the best interest for Suffolk".