Two WW1 biscuits sell for £290 at Suffolk auction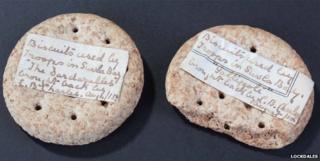 A pair of World War One army ration biscuits have sold for £290, five times more than they were expected to fetch.
Lt Lionel Bruce Charles, who fought at the Gallipoli/Dardanelles campaign against the Ottoman Empire in 1915, is thought to have owned them.
Oliver Miller, of Lockdales in Suffolk, said the biscuits were "the sort of thing any First World War period collector would love to have".
"They're probably still edible, if you really wanted to eat them," he said.
The biscuits, labelled "used by troops in Sulva Bay", are made out of flour, salt and water and were expected to fetch between £40 and £60.
British Army biscuits were known for being particularly hard to bite through and a number have survived intact since WW1.
Mr Miller said: "The ingredients helped keep them sustained for this amount of time.
"The biscuits were usually crushed up to put in tea or stews - they were so solid they didn't really like to eat them as a straight biscuit.
"A collector would love to own them and would probably just enjoy looking at them, maybe with a different pack of biscuits."
Lt Charles lived at Wroxham House in Norwich. One biscuit is labelled "Gallipoli" and the other "Dardenelles" - both are dated August 1915.
The Gallipoli Campaign was a failed attempt by British, French, Australian and New Zealand troops to secure the sea route to their ally Russia through the Dardanelles.