Barn owl boxes in Suffolk 'stolen and vandalised'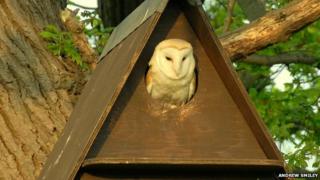 Five barn owl boxes which are part of a Suffolk community project have been stolen or vandalised, with the animals taken to "spend their lives in cages".
The boxes were erected in an attempt to halt a decline in barn owl numbers.
They are made by a group of disabled people and Hollesley Bay prisoners, and monitored by volunteers.
Kathy Piotrowski, of the Suffolk Community Barn Owl Project, said it was sad that a "few mindless people" were undoing people's hard work.
About 1,700 boxes have been put up around the county and they have been credited with helping to turn around the birds' fortunes locally.
Mrs Piotrowski said the exact reasons for the nest box disturbances over the past year were not known, but she presumed the aim was to keep the barn owls as pets or to sell them.
"Chicks are killed or injured from the disturbance," she said. "Or they're stolen to spend their lives kept in cages.
"Suffolk as a county has worked very hard to put up these boxes. They're very precious in lots of ways, to lots of people."
Mrs Piotrowski said barn owls in the county were having a good year overall, following a bad 2013 when "approximately 20 barn owls a day were dying at one point" due to the wet weather.
Suffolk Police said it was aware of the barn owl box disturbances.