Anglo-Saxon coin fetches four times expected auction price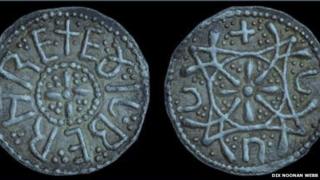 An Anglo-Saxon silver penny that could be linked to the beheading of an East Anglian king has been sold at auction for £78,000.
The coin, which was expected to fetch between £15,000 and £20,000, was found by a man using a metal detector in a field in Sussex in March.
An anonymous internet bidder bought the penny at an auction in London.
Will Bennett, from auctioneers Dix Noonan Webb, described the sale as "a fierce contest to earn a unique coin."
'Fantastic result'
The 1,200-year-old coin, minted during the reign of Ethelbert II in the 8th Century, is only the fourth found from the time he was on the throne.
The penny is engraved with Ethelbert's name and the word Rex on the same side of the coin.
It is believed that may have led to Ethelbert's beheading by Offa, King of Mercia, as it was intended by the East Anglian king as a sign of independence.
The auction saw bids from internet users, those in the room and people who had left written bids.
The hammer came down when bids reached £65,000, but the addition of auctioneer's commission means the artefact's new owner will pay £78,000 in total.
Mr Bennett said "This is a fantastic result, and shows the market for coins such as this is very strong indeed."