WW1 biscuits to be auctioned in Suffolk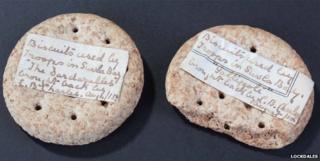 A pair of World War One biscuits, brought home from modern-day Turkey by a British soldier from rations, are up for auction.
It is believed the snacks belonged to Lieutenant Lionel Bruce Charles who fought at the 1915 Gallipoli/Dardanelles campaign against the Ottoman Empire.
The biscuits, labelled "used by troops in Sulva Bay", will be auctioned by Lockdales in Suffolk on 19 June.
Bidding will start at £60.
Lte Charles lived at Wroxham House in Norwich and one biscuit is labelled "Gallipoli" and the other "Dardenelles" and they are both dated August 1915.
The auctioneers, based at Martlesham near Ipswich, expect the lot to attract higher bids on the 100th anniversary of the outbreak of the 1914-18 conflict.
The Gallipoli Campaign was a failed attempt by British, French, Australian and New Zealand troops to secure the sea route to their ally Russia through the Dardanelles. capturing the straits and Constantinople, modern-day Istanbul.
British Army biscuits were known for being particularly hard to bite through and a number have survived intact since WW1.