Felixstowe fire station loses all full-time cover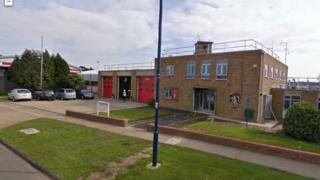 A fire station will lose its full-time firefighters as part of a ongoing programme of cuts.
Suffolk County Council has voted to cut the final four full-time officers at Felixstowe, despite opposition from the town council.
Felixstowe's station will in future have 21 on-call firefighters left after this final stage of cuts.
Suffolk Fire Service had said the overall effect would be "within tolerable levels of management".
The programme of cuts at Felixstowe began in 2011 after the Conservative-run Suffolk County Council agreed to a 12% cut to the fire service's £22.5m annual budget over four years.
It had already removed full-time firefighters at weekends and weekday evenings and nights, while the number stationed there from Monday to Friday between 08:00 and 18:00 had been cut from 12 to four.
'Very angry'
The proposal to get rid of the final full-time crew members led to Felixstowe Town Council gathering a 450-strong petition opposing it.
Mike Deacon, town councillor, said: "I don't feel the county council is listening to people and the mood here is very angry."
During the consultation earlier this year, Phil Embrey, assistant chief fire officer, said the "overall effect is within our tolerable levels of management".
Speaking today, Suffolk's chief fire officer Mark Hardingham said: "The fire service is having to manage and deliver a fire service with less money than it had three or four years ago.
"We know the response times at Felixstowe will increase slightly, however the important point here is this will impact on only two 999 calls a week and our experience suggests half of those calls turn out to be false alarms."
The full-time firefighters are due to be redeployed elsewhere within two weeks.
A review of the changes would be held in a year's time.