Double-decker bus stuck in hole in Holbrook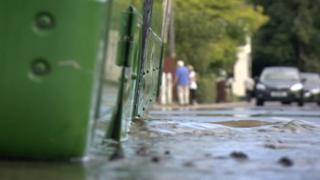 A double-decker bus has become stuck in a hole after part of a road "sunk slightly".
The bus was travelling through Holbrook, in Suffolk, after dropping children off at a nearby school.
Anglian Water said the road had been weakened by a burst water main. About 20 nearby properties are currently without water.
Ipswich Buses said four people were on the bus at the time of the incident, but no-one was hurt.
Suffolk Police said it was called to the scene at about 08:40 BST.
A spokesman said that part of the road had "sunk slightly", near to the Compasses pub. The road has been closed.
Robert Shufflebottom, who lives opposite the pub, received a phone call from a neighbour at about 08:30, saying he "had a leak".
"I went outside and we had rivers of water flowing down the drive, by the side of the house," Mr Shufflebottom said.
"I got my wellies and found the bus securely stuck in a hole on the road, just amazing.
"A lot of traffic was coming along the road, and they were just washing all the water across into the drives of the houses opposite.
"There was a lot of water."
The bus was removed from the hole at about 11:30.