Codebreaker Bill Tutte: Memorial in Newmarket to be unveiled in September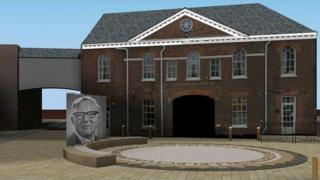 A memorial to a codebreaker who deciphered German messages during World War 2 is to be unveiled in Suffolk on 10 September, it has been announced.
Bill Tutte helped crack the Lorenz cipher. His and his colleagues' work at Bletchley Park, Buckinghamshire, is said to have shortened World War 2.
The £150,000 memorial is to be located at Rutland Hill, Newmarket - Tutte's hometown.
Work on the memorial will start on 16 June, it has been revealed.
Tutte's contribution to the war effort was concealed until the mid-1990s, because of fears for national security.
'Fitting memorial'
It is now widely known that Tutte cracked the German Lorenz cipher (nicknamed Tunny), a machine with 1.6 million billion combinations used by the German military to transmit top-secret messages between its headquarters.
The mathematician and his Bletchley Park colleagues are credited with shortening the war by as much as two years.
Tutte died in 2002 at the age of 84 in Canada,
Graham Newman, Suffolk County Council cabinet member for roads, planning and transport, said: "This will be a fitting memorial built in Rutland Hill with an attractive public space created to host public performances, occasional market days and a feature memorial of Bill Tutte."
Designed by Cambridge-based sculptor Harry Gray, the memorial will take the form of five stainless steel panels.
They are perforated, so as to resemble the punched paper tape Tutte was so familiar with, and, when viewed from a particular direction, reveal an image of Tutte's head and shoulders.
The money for the memorial has been raised through fundraising and from donations by private firms and other organisations, including £40,000 from Suffolk County Council.