Eldon Griffiths MP dies in Bury St Edmunds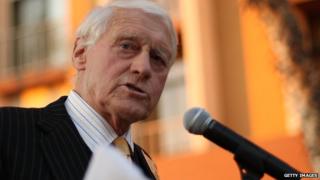 A former Member of Parliament, who served Suffolk for 28 years, has died at the age of 89.
Sir Eldon Griffiths was Conservative MP for Bury St Edmunds from 1964 to 92 and served as a junior minister in Edward Heath's government from 1970-72.
His son John Griffiths is the current leader of St Edmundsbury Borough Council.
He said: "My father was an exceptional man and enjoyed an extraordinarily full and active life to the very end."
Sir Eldon became MP for Bury St Edmunds following a by-election.
'Many achievements'
He served as a junior minister for environment and sport and was made a Freeman of the Borough of St Edmundsbury in 2007.
John Griffiths said: "A very bright light flickered and then went out earlier this morning.
"The Freeman award was in recognition of his many achievements, in particular in promoting the development of Bury St Edmunds whilst safeguarding its heritage and in acknowledgement of his dedicated and unstinting service to the nation during his 28 years in Parliament.
"He will, I trust, be remembered not just for his many achievements but, more importantly, perhaps, for making life better for a multitude of people of all ages, walks of life and nationality."
Sir Eldon married Susan Donnell in Bury St Edmunds in 2013.