Tattingstone solar farm plan appeal rejected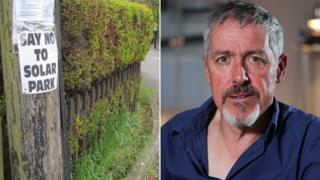 The government has rejected a plan for a 43,000-panel solar farm near Ipswich, following a campaign by opponents, who included comedian Griff Rhys Jones.
Babergh District Council refused to grant planning permission last year for the £25m project at Valley Farm, Tattingstone.
Developers Hive Energy appealed to the government's Planning Inspectorate, which has now also turned it down.
Campaigners said the farm was out of place in a "special landscape".
Mr Rhys Jones said: "This is not a victory for climate change deniers, it is a victory for sensible planning of what remains an urgent requirement.
"The inquiry simply said 'don't build solar farms on beautiful land' and we should all agree with that."
The solar panels would have covered 95 acres (38 hectares) near the Alton Water reservoir between Tattingstone and Holbrook.
Mr Rhys Jones, who lives locally and is a patron of the Stour & Orwell Society, had said it was a "folly" which should be built on wasteland or on the roofs of industrial estates rather than in "beautiful countryside".
'Substantial harm'
The HM Planning Inspectorate report supported campaigners' arguments that it should not be built on farmland.
Elizabeth Ord, planning inspector, said: "It has not been demonstrated that the development of the agricultural land comprising the site is necessary.
"On the one hand, the solar array would have the benefit of generating a significant amount of renewable energy, whilst on the other hand it would cause substantial harm to a valued landscape and to the visual amenities of the area and would result in the loss of arable land for 25 years."
Rodney Chadburn, secretary of the Stour & Orwell Society, said: "We're very pleased with the result which is right and proper.
"We are not against renewable energy as there's clearly a place for it but this is a special landscape featuring high quality agricultural land and ancient woodland and a solar farm should never be built here."
Hive Energy has been unavailable for comment.