Felixstowe's Ordnance Hotel to be demolished for a Premier Inn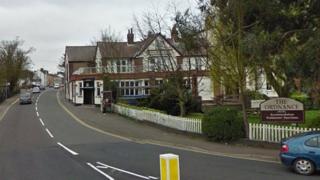 A 19th Century hotel in Felixstowe is to be demolished to make way for a Premier Inn.
The firm has been granted approval for a new 60-bed hotel on the site of the Ordnance Hotel on Undercliff Road West.
The national chain hopes to have it open next year.
Alan Hadwen, from the Felixstowe Society, said: "The Ordnance is one of the most attractive, iconic buildings in Felixstowe, but it's not viable to repair and we accept its demolition."
The Ordnance was built in the 1870s, but it is not a listed building.
It does not currently operate as a hotel and only its bar is open to the public.
Mr Hadwen said: "We're sad to see the Ordnance go as it was one of the more prestigious hotels when Felixstowe was developed as a spa resort by the Victorians, but its upper rooms are in a dreadful state.
"We hope the developers will be sensitive to the area and design fits in with Felixstowe."
Whitbread, which owns the Premier Inn chain, said the current owners were expected to demolish the Ordnance in the Autumn and the site would then be transferred to Whitbread.