Suffolk Show site gets approval for music festival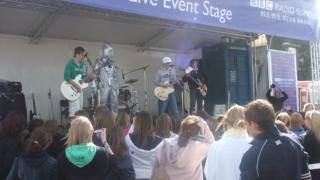 The Suffolk Show site has been granted approval to hold a new two-day music festival for 5,000 people each summer.
The owners of Trinity Park near Ipswich needed to get a change to the site's planning consent to hold the music event.
The site owners said they were now talking to promoters about holding a "family-friendly" festival next year.
The local parish council had raised concerns over noise, but hoped evening time-limits would prevent disruption.
The site is owned by the Suffolk Agricultural Association, which holds conferences, rallies and other events throughout the year, as well as the annual two-day country show in May, which attracts up to 80,000 visitors.
Although there has been some live music at the Suffolk Show, it was not permitted at other times of the year.
Planning consent to hold a music event between June and September was granted by Suffolk Coastal District Council, although a weekend has yet to be chosen.
'Tremendous disruption'
Music can run from noon until 23:00 BST on a Saturday and 20:00 BST on a Sunday.
Liz Warham, chairman of Brightwell, Foxhall and Purdis Farm Parish Council, said: "As long as it goes according to plan and the music isn't too loud or goes beyond 23:00 BST on Saturday and 20:00 BST on Sunday, then hopefully it will be a good experience for everyone."
He added that generally relations with the showground were good.
Chris Bushby, executive director of the association, said: "We're hoping we can put on a family music event with something for all ages.
"We're talking to different promoters to see what would actually work here now that we've got permissions.
"We may start with a one-day event next year - it's got to be different, but I can't say any more than that at the moment."