Suffolk Police and Crime Commissioner Tim Passmore denies 250 jobs will go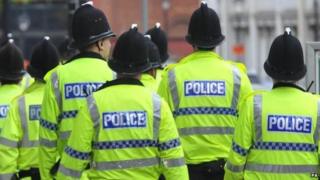 Suffolk's police and crime commissioner (PCC) has denied up to 250 frontline jobs could be cut over the next four years.
Police sources told BBC Look East that up to 400 jobs could be lost across Norfolk and Suffolk to meet combined budget shortfalls of £36m.
PCC Tim Passmore said: "There are no plans to make 250 people redundant."
Norfolk's PCC said he would reveal his savings plans in July, but Mr Passmore said that was not the deadline.
Sources told BBC Look East that up to 250 police officer and police community support officer jobs would go in Suffolk and 150 in Norfolk.
Suffolk Police has agreed to make savings of £16m over four years, while Norfolk Police must save £20m.
'Complete denial'
In April a plan to combine the two forces' control rooms, supported by Norfolk PCC Stephen Bett, was dropped after opposition from Mr Passmore.
Mr Bett said his savings plans would be announced on 4 July.
Mr Passmore said: "The savings for the control room in Suffolk [would have been] £632,000, so where this correlation of jobs losses in Suffolk comes from, I've no idea - I'm in complete denial of this.
"If Norfolk have their own plans, that's entirely up to them. We will make our own plans in Suffolk.
"We've got two whole years before we get to the cut-off point of getting the budget savings prepared, so where this idea comes from that we have to get it done by July, I have no idea."
Mr Passmore said Suffolk Police still had to find about £10m of its savings, but that these could be achieved through "natural wastage".