World Cup sticker swapsies and real ale at village pub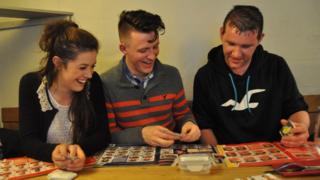 World Cup sticker collectors have gathered over a pint of ale to take part in a Suffolk village pub's first "swapsie" event.
Matt Bain, 35, last swapped stickers in his childhood, collecting for Back to the Future and Mexico '86 books.
He arranged an event at the White Horse in Easton after realising other people his age had started collecting for Panini's World Cup 2014 book.
"It seems to be a popular thing amongst us over 30s," he said.
As it turned out, the age range was wider than Mr Bain, the pub's general manager, had imagined.
While the pub filled with diners making their way home from the Suffolk Show, strangers exchanging acknowledging nods gravitated to a corner of the room.
Josh Vartan, 22, had come from Ipswich, armed with a box filled with swaps.
"I've spent about £70 on the stickers so far," he said.
Mr Vartan ended the night in good spirits, having swapped his way to being just one player away from finishing the Japan team.
He had been exchanging with about 10 other people at the event. Two children had left before the "official" start time of 19:00 BST, and some men in their late 30s arrived fashionably late.
All agreed that the stickers brought back memories of the school playground, but it was interesting to see that the process of swapping had been relaxed since those competitive years.
It is still "a well known fact" that a silver sticker is worth two "normals", but whereas before children might haggle and barter, at the White Horse each member of the gathering casually handed over their stash to anyone interested and let them peruse at their leisure.
"I want to finish my book before the first game of the World Cup kicks off," said Adam Tucker, 27, from Kesgrave.
"Yaya Toure is my most common player. I've got three copies of him now and have already got rid of three others."
Franck Ribery, "the French goalkeeper" and the "whole of the South Korea team" are the other stickers which people at the pub said they kept getting.
However, Panini insists an equal number of every sticker is produced, and none should be rarer than another.
The company admits nostalgia has played a part in spreading the popularity of the stickers beyond its "core audience of boys 5-15".
But the social side is also important in its appeal to an older audience.
Collectors can send off for missing stickers or even buy a whole box for £50 and have a good chance of getting most of the book in one go.
So why do people persist with the method of buying and swapping?
"Buying a box in one go would spoil the fun of it," said Abbie Dunnage, 17, from Ipswich.
Mr Bain, who buys about 20 packs at a time and still needs some 200 stickers to complete his collection, agreed.
"I get some funny looks," he said. "That's when I pretend to have some offspring I'm spoiling for the evening.
"I haven't bought a whole box but heard about a guy who wanted to buy all three boxes in a shop.
"He bought two but the shopkeeper said he had lots of school kids who he didn't want to disappoint - that's cool."