Restored railway horsebox ready for passengers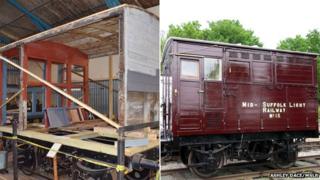 A railway horsebox that last saw service more than a century ago has been restored in Suffolk and made ready for passengers.
Horsebox no. 180 was built in Derby in 1869 and was one of 40 made for the Great Eastern Railway.
It was found as a wreck on a farm in Cambridgeshire in 1994, and restoration by volunteers from the Mid-Suffolk Light Railway (MSLR) began in 2009.
The horsebox is now on show at MSLR's Brockford Station.
The restoration cost about £7,000, and the project won national recognition in 2012 with a Restoration Award from the Transport Trust, which also gave a grant of £1,000.
Thought to be the oldest surviving horsebox, it was used to transport racehorses, horses for the army, for hunts and for individual owners.
Horsebox no 180 was withdrawn from service in 1896 and the body sold for £6 to be used as a chicken shed.
It has now been modified to enable passengers to ride in the groom's compartment.
It is no longer allowed to carry horses because of modern animal welfare regulations.
The Mid-Suffolk Light Railway was built in the Edwardian era but closed in 1952.
Now it is preserved as a steam railway.