Lowestoft car crash causes gas blast fears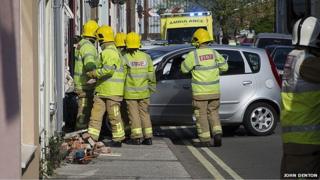 More than 100 people had to leave their homes when a car crashed into a house causing a suspected gas leak.
Police and fire crews were called to the crash in Bevan Street West in Lowestoft, Suffolk, at 16:50 BST on Saturday.
Three people in the car were unhurt but firefighters feared a gas explosion.
Adults and children were asked to leave about 40 homes in the area and stand behind a cordon for about an hour while gas engineers made supplies safe.
John Denton, a resident and freelance photographer, said the sound of the crash had brought people out of their homes.
Firefighters assessed the damage and saw the car had damaged a gas main.
"People in nearby houses were asked to evacuate," Mr Denton said.
"Three fire engines, three police cars and an ambulance were called.
"Most people appeared to be excited to see a car parked in the side of a house and less concerned about their own property."
An investigation is now under way to discover how the car came to be embedded in the house.