Lowestoft Town FC honoured with open-top bus parade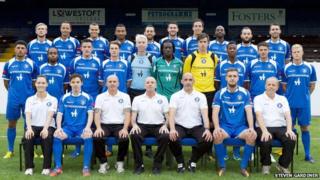 An open-top bus parade is to be held in Lowestoft in honour of the Suffolk football team's first-ever promotion to the Football Conference.
The bus will take players, backroom staff and management from Lowestoft Town's Crown Meadow through the streets to the Marina Theatre on 15 June.
There they will go onto the balcony to thank fans who supported them in their play-off victory over AFC Hornchurch.
The bus is being laid on by the Eastern Daily Press and the Lowestoft Journal.
The Trawlerboys' secretary Terry Lynes said he hoped the turnout would be more than the 1,000 fans who celebrated the club's appearance in the FA Vase final at Wembley.
He said the promotion to the sixth tier of English football was "a bigger achievement against a better team".
Lowestoft FC will play in either the Conference North or South next season after beating AFC Hornchurch 3-0 in May's Ryman Premier play-off final.
They had lost in three previous consecutive finals.