Lowestoft pedestrian death: Text message driver sentenced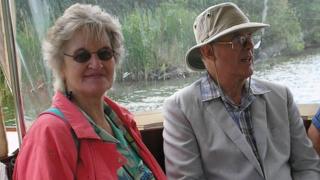 A motorist who received a text message seconds before hitting a partially-sighted man and his wife has been ordered to do 240 hours of unpaid work.
David Wright, 74, from Lowestoft, was killed and his wife Pauline was badly injured on Yarmouth Road in the town.
Samantha Pitcher, 28, of Maidstone Road, Lowestoft, was sentenced at Ipswich Crown Court for causing death by careless driving.
Judge Rupert Overbury said her lack of attention caused the collision.
Pitcher was disqualified from driving for two years and must take a test after this ends.
The unpaid work is to be carried out under an 18-month community order.
Mrs Wright needed three months' hospital treatment after the crash.
'Avoidable tragedy'
She and her husband were crossing the road in February 2013 behind their son and two grandchildren after having a meal at the Foxburrow public house.
Mr Wright suffered fatal injuries and was later pronounced dead at the James Paget Hospital.
Pitcher denied the offence but the court heard that she had sent and received text messages on her mobile phone shortly before the collision.
Judge Overbury told her the collision was "a tragedy which could have been avoided and was solely down to your lack of attention".
"Nine seconds before the collision, your phone received a text message," he said.
The judge told Pitcher while she may not have read the message "your eyes moved off the road for a few seconds".
He said a community sentence was appropriate because of her genuine remorse and clean driving record, and the fact she has three young children, one of whom is disabled.