Suffolk Police officers need 'more training' to deal with lorry drivers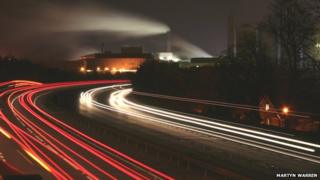 Suffolk police officers are to get more training to read HGV tacographs after figures showed a drop in lorry drivers being fined for not taking breaks.
In 2011, 316 truckers were given fixed penalty notices, but this dropped to 28 in 2012 and four in 2013.
Motoring safety group GEM, said it showed bad driving was going unpunished.
Suffolk Police said training was under way, but the force was prioritising other areas of road safety.
The figures were revealed in a Freedom of Information request by BBC Radio Suffolk.
'Truly appalling'
David Williams, chief executive of GEM Motoring Assist (formerly the Guild of Experienced Motorists), said: "The figures are truly appalling and confirm the view of our members that bad driving is going unpunished.
"The cuts that police have faced has affected traffic enforcement and the role that traffic police play in stopping people and educating them seems to have been lost."
Norfolk and Suffolk's road policing units and tactical firearms units were merged in 2012 into one unit.
Ch Insp Chris Spinks from the Norfolk & Suffolk Policing and Firearms Operations unit said: "Bad driving is not going unpunished, but we have identified there is a need to increase training in this area.
"We would not expect all of our 180 staff to all be trained to a high level of tacograph knowledge, because there is not a need to do that.
"The main thrust of policing the roads is protection so we concentrate our resources on the fatal four [enforcing laws on wearing seat belts, drink-driving, mobile phone use and speeding]."
The police said that of 314 serious or fatal collisions in Suffolk in 2012-13, lorries were involved in 29 of them, while in 2013-14 these figures had dropped to 248 incidents with 17 involving lorries.