Springwatch: RSPB Minsmere to host Chris Packham BBC2 wildlife show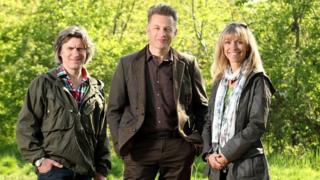 Springwatch will be migrating to a new home on the Suffolk coast when the nature programme returns to BBC Two, it has been revealed.
RSPB Minsmere, one of the richest areas for wildlife in the UK with more than 5,600 species on site, will host the three-week series from 26 May.
Reserve manager Adam Rowlands said the site's rich biodiversity promised viewers a "jam-packed series".
Former presenter Bill Oddie will return to mark the show's 10th anniversary.
Presented by Chris Packham, Michaela Strachan and Martin Hughes-Games, Springwatch is watched by almost three million people a night and has become one of the UK's longest-running wildlife series.
Habitats at the 1,000 hectare (2,470 acre) reserve include sand dunes, saline lagoons, reedbeds and woodland.
"The RSPB has been giving nature a very special home on the Suffolk Coast since 1947, and we are delighted to be able to share it with BBC viewers in the coming weeks," said Mr Rowlands.
"The rich biodiversity of this glorious coastal location promises a jam-packed series of the popular TV show, providing a great opportunity for people to enjoy the iconic views and wildlife here in Suffolk."
'Thrilling and satisfying'
Wildlife specialists have been rigging cameras on the reserve's lagoon over the last few weeks in a series of specially-built hides, linked by corridors of high reed screens to shield the production team from view.
Cameras will be carefully positioned in and around the nests of avocets, terns, oystercatchers and lapwings, allowing constant, real-time updates as they keep watch for predators and strive to raise their young.
Night-vision cameras will also follow the reserve's resident badger family using the latest scientific techniques to study them and unearth the intimate details of their lives, both above and below ground.
Former presenter Bill Oddie returns as a special guest, looking back at the UK's wildlife and how it has fared over the past decade.
"Undoubtedly, one of the most thrilling and satisfying periods of my life was being part of the development of Wild in Your Garden, to Britain Goes Wild, and finally to Springwatch," said Mr Oddie.
"The shows were about wildlife, but the experience was about people. Springwatch was - and continues to be - the very definition of the joy of teamwork."
Springwatch returns to BBC Two at 20:00 BST on Monday to Thursday from 26 May to 12 June.