Ipswich town centre police station closes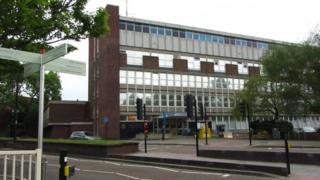 Suffolk police officers have vacated the Ipswich town centre police station, which is being replaced by a "central hub" in a neighbouring street.
Staff began moving from Ipswich police station on Civic Drive to Landmark House on the north-west edge of town in 2012.
Seventy staff who were left at Civic Drive are now working at a smaller base at 10 Museum Street.
The Museum Street building cost about £600,000 to buy.
It will be home to the Ipswich Central Safer Neighbourhood Team and special constables, as well as being used by people working for non-police organisations such as the Town Safe Team and other public protection officers.
Ipswich Policing Commander Superintendent Louisa Pepper said: "This change of base will in no way affect any of the services offered to people - officers will continue patrols as they always have.
"The new base is part of an ongoing review to ensure we get best value for taxpayers while maintaining and improving services and by reducing the costs associated with maintaining older buildings that are no longer fit for purpose."
Under an old agreement, ownership of the Civic Drive police station was being transferred to Ipswich Borough Council, but the authority was going to have to pay the market value for it. This was yet to be determined by an independent district valuer.