Ed Sheeran's 'secret' Ipswich Steamboat pub gig delights fans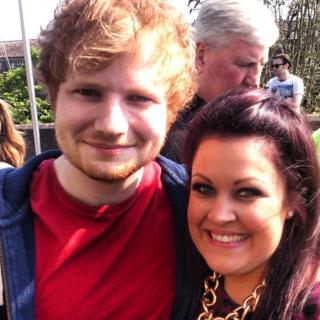 Singer Ed Sheeran has returned to play a secret gig at a Suffolk venue he performed at before his rise to fame.
Some 100 tickets were given away via his Facebook page on Thursday, but the venue was kept secret until Sunday.
The 45 minute acoustic show at the Steamboat Tavern in Ipswich began at 10:45 BST and Sheeran later left for another gig in London.
Ellie Cook, from Colchester, said: "It was very intimate and he was clearly enjoying going back to his roots."
'Chilled atmosphere'
Sheeran said: "I haven't played this venue in almost five years - it's nice to come back to where it first started.
"Every single fan here has kept the location very quiet because they didn't want anyone else to find out, so it's a very chilled atmosphere."
Ms Cook, 23, said: "I was amazed my sister got tickets in the first place as they went in minutes, and obviously delighted she asked me to be her guest."
Sam Taylor, 17, who came from Lowestoft with his father Mark, 52, said: "It was brilliant and a mixture of older songs and news ones.
"I've seen him about four times, but never anywhere this small.
"He came out to meet us beforehand and was a really nice, down-to-earth guy."
Amy Gunther, 22, from London, said: "He unplugged completely after the first song, so it was just him and his acoustic guitar with no amplification.
"It hasn't quite sunk in yet that I was one of the lucky few to get tickets."
Sheeran, who is from Framlingham in Suffolk, was scheduled to play three gigs on Monday - moving on to an afternoon show at Koko in Camden and then to Vicar Street in Dublin in the evening.
Sheeran has played similar triple gigs in other countries in support of his new album X (pronounced Multiply), where he starts at a small venue and then plays two increasingly larger venues in one day.