Ed Sheeran: 'Secret' Ipswich gig tickets snapped up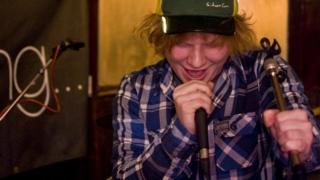 Free tickets for a "secret" concert by Suffolk singer-songwriter Ed Sheeran were snapped up "in minutes".
The star announced on his Facebook page on Thursday that an acoustic show would take place in Ipswich on Monday.
Ticket holders will be informed where the venue is closer to the day of the show, which starts at 11:00 BST.
Sheeran played at several pubs in the area before his rise to fame, including The Steamboat Tavern and The Swan in Ipswich.
He said the show would be "a short set in a very small secret location" to promote his forthcoming X album.
Fans have used social media to express their disappointment at missing out on tickets, which went on sale via Sheeran's Facebook site at 17:00 BST on Thursday.
Maria Watts posted a message on Twitter at 17:02 BST: "Didn't even have a chance for tickets to Ed Sheeran's Ipswich gig. Was basically pot luck if you were on Facebook at the right time."
Amy Rose tweeted to say: "So the Ed Sheeran tickets for Ipswich went in less than 10 minutes. This is just a jokeeeeee :|"
Other fans were luckier - Lucy Ross said on her Twitter account: "Got 2 tickets for Ed Sheeran's gig in Ipswich woo..."