Ipswich arts centre plans for closed St Clement's Church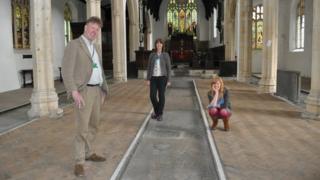 An Ipswich church which closed more than 30 years ago could be reopened as an arts centre.
St Clement's Church, on Star Lane, dates back to the 15th Century but has been closed since 1979.
A newly-formed group has agreed to take it on from Ipswich Historic Churches Trust and is hoping to raise £750,000 to convert it into an arts venue.
Simon Hallsworth from the group said: "The church has been lying dormant for too long - it's a beautiful space."
Mr Hallsworth, who works at University Campus Suffolk (UCS), is overseeing the project alongside Cad Taylor, of CSV Media, and Carol Gant, who also works at UCS.
"The church was built to serve the communities around here, but those communities no longer exist," he said. "It's got to serve new communities and our dream is to bring it back to life.
"Ipswich often doesn't deliver culturally, despite its cultural heritage, often because there are not the venues and spaces for people to go."
The church briefly acted as a storage room for the Wolsey Theatre but has largely been vacant since 1979.
Features dating back hundreds of years are still in place and the roof is in good shape, having been replaced following a fire in 1985.
A stage would have to be installed, along with facilities including toilets and dressing rooms, but otherwise, at first glance, it appears to be in good condition.
"We want to do events as soon as we can," said Ms Gant. "We're looking to raise £2,000 to make the floor safe, we can then start putting on gigs and theatre productions."
Ms Taylor, who plays in local band These Are End Times, said people had been campaigning for a dedicated venue in the town for 30 years.
But despite these previous failed attempts, she is confident the St Clement's Church bid can succeed.
"We have a myriad of creative people in Ipswich, dying to make something come to life," she said. "It's a tapestry of getting funding, things like crowd-sourcing are hugely popular and then there will be the more substantial, strategic funding.
"We also have people who are very willing, in a pro-bono capacity, to help with this."
John Blatchly, chairman of the Ipswich Historic Churches Trust, said he been unsuccessfully "hawking" the church to Suffolk College and then UCS for 25 years.
"Along has come someone with the vision to see what a wonderful facility this would be as a very general arts centre," he said.
"We're absolutely delighted and feel very confident that the energy is there."
A public meeting is being held at St Clement's Church on 8 May from 19:00 BST.