Ipswich church damaged by fire has 2015 opening hopes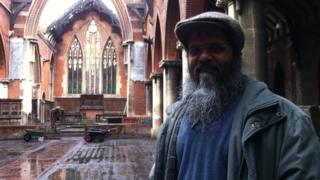 A former church in Ipswich that was badly damaged by a fire could reopen as a community centre by the end of next year, its owner has said.
The roof of St Michael's Church was destroyed by the blaze in 2011.
Islamic group Jimas says it has raised half of the £500,000 needed to renovate the building, which is currently being cleared with the help of volunteers.
Chief executive Manwar Ali said: "We're on the cusp of starting reconstruction."
The charity bought the building on Upper Orwell Street from Ipswich Borough Council for £375,000 but had not insured it.
Mr Ali said funds were in place for the first part of the project, renovating the church hall which is alongside the main building.
"The second phase will see the church restored to a usable space, with the roof rebuilt," he said. "The third phase will be the church hall itself.
"We hope the three phases will be completed by the end of next year, but we haven't got all the funds for that."