Wyverstone weapons find: Second controlled explosion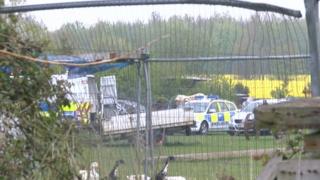 A second controlled explosion has been carried out after weapons were found in a house.
Officers discovered the weapons during a search of a house on Potash Lane, Wyverstone last Thursday.
Suffolk Police said on 21 April that items were blown up as "precautionary measure" at the house.
A second controlled explosion took place at about 18:00 BST of items taken to the police station in Stowmarket by the bomb disposal squad.
Police said a "very old detonator" was destroyed in the explosion.
They were blown up in a field near the police station after a cordon around the field was set up.
A cordon is still in place at the Wyverstone property and officers remain at the scene.
James Arnold, 49, of Potash Lane, Wyverstone, who is chairman of Wyverstone Parish Council, has been charged with possessing prohibited weapons and assault and is due before magistrates in Bury St Edmunds on Monday.
A 45-year-old woman from the Stowmarket area, arrested on suspicion of possession of a prohibited firearm, was released on police bail until 21 May.