Skeletons found in Suffolk water pipe dig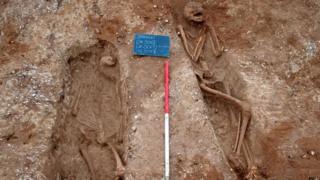 Nine human skeletons have been found by archaeologists excavating land to be used for a water pipeline in Suffolk.
Eight of them, found together near Barnham, are believed to date back to about AD300. Two of the bodies had been buried with a brooch and a knife.
The other skeleton was discovered at Rougham.
Anglian Water, which is installing a new pipeline to serve Bury St Edmunds, said items from the dig would be "kept in a secure museum archive".
The dig took five months and also unearthed evidence of Anglo Saxon "grub huts" from the 6th Century, near Barnham.
Four cremation pits and Neolithic, Bronze Age and Iron Age items were also found.
"We've been lucky," said Tom Phillips, from Oxford East Archaeology, which managed the excavation.
"We've got fantastic groups of Neolithic flint work, six Saxon buildings to learn from, as we still don't fully understand how these work, a potentially very interesting cemetery and enough medieval archaeology from around the villages to actually say something about their development."