A11 Elveden bypass not ready for Easter opening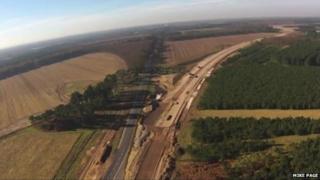 Plans to open part of the upgraded A11 have been delayed due to "driver safety".
Last month the Highways Agency said the Elveden bypass in Suffolk would be open by Easter.
But it now says the opening has been pushed back "slightly", with no new date set.
Frances Armstrong, from the Elveden Estate, said the business was "disappointed" with the delay but hoped the bypass would be open within weeks.
"It shouldn't take too much longer," she said, adding that congestion caused by roadworks had had an impact on the farm and restaurant.
The bypass is part of a multi-million pound development which is due to be completed by December.
In a statement, the Highways Agency said: "We had hoped to be able to partially open the bypass section by the Easter weekend, although it would have been just one lane in each direction, with a 40mph speed limit through the ongoing roadworks.
"We are very confident the delay in opening this significant improvement will only be minimal."