Row over absconded prisoner Jerry Monerville alert delay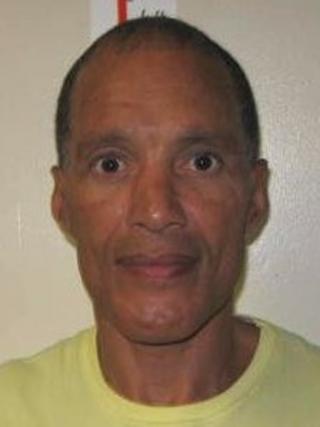 Suffolk police have apologised for a 20-hour delay in telling the public a robber had failed to return to an open prison after a period of home leave.
Jerry Monerville, 49, who was serving an eight year sentence, had been allowed to visit London from HMP Hollesley Bay on the Suffolk coast.
The delay has been criticised by Suffolk's police and crime commissioner (PCC).
Suffolk Police said the public would be alerted more quickly in the future.
The PCC questioned a similar delay when 25-year-old kidnapper Daniel Best went missing last year.
'Very disappointed'
Police said Monerville had been due to return to Hollesley at 15:30 BST on Tuesday and was then reported as missing.
A media appeal for information was not issued until just before 13:00 BST on Wednesday.
Tim Passmore, Suffolk's PCC, said: "I'm very disappointed - this did happen last year and it did seem to take an extraordinary length of time for the public to be made aware.
"If it's just down to communication, then that's not acceptable - I would have thought a couple of hours to assess this is fine.
"I can't see why it takes 19 or 20 hours to impart this information."
Chief Supt Jon Brighton, Suffolk's county policing commander, said: "We've been slow off the mark in making public [the information that Monerville was missing], but we certainly have been carrying out the inquiries to try and find this prisoner."
Monerville was described as having connections in the Tower Hamlets borough of east London and Herne Bay, Kent.
Police said he should not be approached.