Orfordness lighthouse gravel bag defences 'working' so far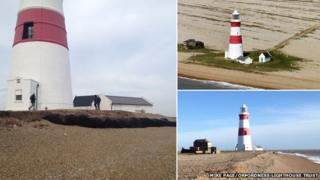 The owners of a decommissioned lighthouse in Suffolk say new "gravel bag" sea defences are working.
The Orfordness Lighthouse Trust (OLT) is the current owner of the building which dates from 1792.
The trust gained planning permission to put a 140ft-long (42m) wall of builders' bags filled with gravel and shingle on the beach.
The trust said it was preventing more erosion of the low cliff while they planned the lighthouse's future.
The National Trust, which owns the Orford Ness spit, wanted the lighthouse left to the sea and had claimed any protection work at the waist-high cliff would be unsuccessful or would damage a sensitive nature reserve.
The builders bags, which are held together by textile wrapping, were put in place in March.
Nicholas Gold, OLT founder, said: "We accept the lighthouse has to be taken down or be left to the sea, because long-term defences would cost £5-10m and the National Trust don't want to preserve it.
"The gravel bags are a short-term measure to enable us to plan the removal of key features and artefacts, but it has the beneficial side effect of allowing visitors more time to go inside the lighthouse and we're hoping to hold more regular open days."