Ipswich begging: 'Only' one of 25 persistent beggars sleeping rough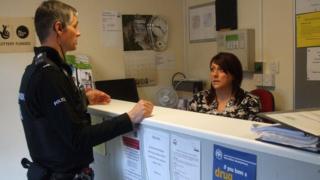 Of 25 persistent beggars in Ipswich town centre, "only" one was found to be sleeping rough, police said.
The figures come from Suffolk Police's campaign to tackle begging by directing individuals to support bodies dealing with alcohol, drug or other issues.
Of the 25 people identified, two-thirds had either alcohol or drug problems.
The police said some beggars had rejected offers of support packages which was "not surprising" when some were making £100 a day.
The police's figures showed that just under half of the beggars were dependent on both drugs and alcohol.
'Few alternatives'
Supt Louisa Pepper said: "What the public may not realise is many of these individuals have been offered help by partner agencies previously, but have declined these offers.
"This is perhaps not surprising when you realise that people can be given up to £100 a day when begging.
"They do not want help from our willing partners and in these cases, when they will not co-operate, we are left with few alternatives other than to keep putting them before the courts."
BBC Radio Suffolk spoke to one man who claimed to be able to make up to £150 by begging on some days.
Reverend Canon Paul Daltry, chairman of Ipswich Winter Night Shelter said: "Giving to those begging might salve our consciences, but for those begging, it may maintain their destructive lifestyle - the choice is ours.
"We need compassionate people to support agencies that have considerable experience in working with people who often have complex and heart-rending issues by giving time and money."
Neil MacDonald, deputy leader of Ipswich Borough Council, said: "It is important to tackle this issue as part of creating a welcoming town centre.
"Clearly, most people who beg have addiction problems, so helping them into rehabilitation is the long-term solution for vulnerable people who feel that begging is their only option."