Ipswich restored trolleybus ready for passengers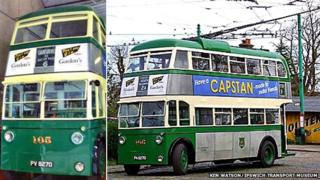 A trolleybus that last saw service in Ipswich more than 50 years ago is ready to carry passengers again.
Trolleybus 105, new in 1948, was one of 126 built for Ipswich Corporation between 1923 and 1950.
They were fuelled by locally-generated electricity supplied to the vehicles via overhead wires strung over the town's main roads.
Trolleybus 105 has been restored over 11 years by volunteers at the Ipswich Transport Museum for £25,000.
It has been taken to the East Anglia Transport Museum in Carlton Colville which has the overhead wires needed to provide the 600-volt current for the vehicle's electric motor.
Visitors to the museum will be able to have rides aboard the trolleybus after its "unveiling" to the public at the beginning of May.
The trolleybus had been used as a mobile canteen before it was acquired by the museum in 1971.
The restoration has included a structural rebuild, new seats, new wiring, motor overhaul and brake replacement.
Museum trustee Owen Philips said: "No. 105 was a derelict wreck when we started. The restoration is a shining testament to everyone who worked so hard on it during the last 11 years.
The chairman of Ipswich Transport Museum, Mark Smith, said he had only ever seen cine film of the trolleybuses moving. "To watch and hear it for real is a dream come true."