Eco-Oil Ltd fined for River Orwell oil slick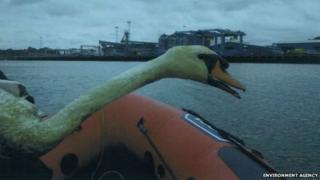 A company responsible for an oil spillage on the River Orwell has been fined £30,000.
One swan was killed and 11 others required treatment following the spillage from Eco-Oil Ltd's plant in Ipswich in July 2012.
The company admitted causing the pollution and failing to comply with a condition of its environmental permit.
Magistrates in Ipswich also ordered the company to pay £6,569 in costs to the Environment Agency.
Miriam Tordoff, prosecuting for the Environment Agency, said the oil entered the river after the company's oil separator tank was "overwhelmed by heavy rain".
The tank, which overflowed, is used to separate oil from other contaminants including water.
Signs of the oil could be seen four miles (6.4km) down the river and in parts it was about 2in (5cm) deep.
Mrs Tordoff said an alarm which would have alerted the company to the rising level of the separator tank had been decommissioned as it was unreliable.
Defence lawyer John Jolliffe said there had been a "serious misjudgement" on behalf of the worker who had checked the levels of the fluid in the separator the night before the incident.
However, he said it had been "one of the most intense rain storms in 100 years" and highlighted that the company had a good environmental record.
"This is a classic example of a one-off unfortunate incident", he said, adding that Eco-Oil Ltd, which is based in Wales, had spent £169,000 on the clean-up operation.
Sentencing, magistrate Alan Fletcher acknowledged that the incident occurred "during exceptional weather" and that the company acted quickly to clean up the spillage, at no cost to the public.
However, he said there had been "significant damage" to the area and to wildlife.
He also ordered the company to pay a £120 victim surcharge.