Ed Sheeran clothes on eBay attracts flurry of bidding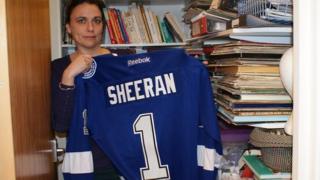 The first batch of clothes donated by Ed Sheeran to charity has attracted 185 bids totalling over £1,000 in the first 12 hours of an online auction.
The Suffolk singer tweeted last week that he had given his "whole wardrobe [to] a bunch of charity shops".
East Anglia's Children's Hospices (EACH) put seven items on eBay at 20:00 BST on Monday.
A sweatshirt with a cats design had attracted 68 bids and reached £450 with nine days to go.
The second most popular item so far is an orange Martin & Co. hoody with 23 bids reaching £255.
'Taylor Swift'
Sheeran grew up and went to school in Framlingham and his family delivered bags containing hundreds of items to local charities last week.
EACH said more items would be auctioned online at a later date and it was saving some clothing for its new charity shop which is due to open in the town in May.
St Elizabeth Hospice is also starting an online auction on Friday and selling items in its Framlingham store on Saturday.
The first items to be sold by EACH also include a T-shirt and sweatshirt with an alphabet design, which Sheeran has been photographed wearing.
St Elizabeth Hospice said its items being put on sale on Friday included clothes "worn with Taylor Swift".
Shop manager Rachail Pollard said there had been "a lot of interest in Suffolk and worldwide".
"We have tried to ensure all those interested are catered for," she said.
Two other charities were also given clothes by the singer.
Sue Ryder in Framlingham had previously announced its plan to sell its items in-store on 18 April.
Suffolk Family Carers, based in Claydon near Ipswich, is to sell its items online in May.