Archbishop of Canterbury joins Ipswich Town Pastors' night patrol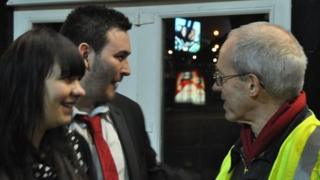 The Archbishop of Canterbury joined Town Pastors on a night patrol in Ipswich to see how the church in Suffolk is helping "vulnerable people".
The Most Reverend Justin Welby teamed up with the volunteer project on Friday during a tour of Christian projects in the county.
Archbishop Welby, who met the manager of Ipswich's Sin Bar, said the Town Pastors project was "impressive".
He added it showed compassion and the "love of Christ in practical ways".
The Town Pastors, recognised around the town in their bright yellow jackets and blue baseball caps, aim to make Suffolk's nightlife safer "without inhibiting the fun and enjoyment many are seeking", said a spokesman for the St Edmundsbury and Ipswich Diocese.
'Plain comical'
The scheme started eight years ago as a group of 20 people walking the streets of Ipswich, from late evening to the early hours.
Archbishop Welby said: "Town Pastors work with all kinds of vulnerable people in all sorts of circumstances. It's not just people who are out clubbing, it's the homeless, people who are ill."
The Rev Canon Paul Daltry, minister for church and community engagement within the diocese, said: "Town Pastors training prepares them to face many different situations, some very sad, some threatening and some just plain comical.
"They work in close partnership with the police and other agencies, but they guard their independence as they must not be seen to be another branch of the authorities, but rather friends on the streets who care for people and who look for peace."
The pastors are active in nine towns across Suffolk with more than 570 volunteers.