Ipswich Chord rail link opens for Felixstowe freight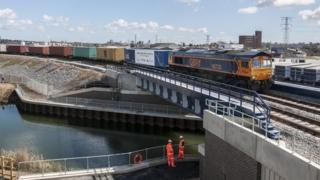 A new £59m railway giving the Port of Felixstowe a direct link to the Midlands is opening to freight.
Until now freight trains have had to travel in to Ipswich and then out again, adding a hour to journeys.
The new 'Ipswich Chord', which is 0.75 miles (1.2km) long, connects the East Suffolk Line with the Great Eastern Main Line to Nuneaton.
The port said the number of containers transported by railway had doubled in the last decade and should grow.
Hutchison Ports, which owns the Port of Felixstowe, said about 28% of its UK freight - about 830,000 containers - went by rail in 2013.
That compared to about 400,000 containers in 2004.
Clemence Cheng, Hutchison Ports (UK) chief executive officer, said: "The new terminal, and the Ipswich Chord, will allow a greater number of 30-wagon trains to operate from the port."