Missing Luke Durbin: More tests on Ufford woods bones-find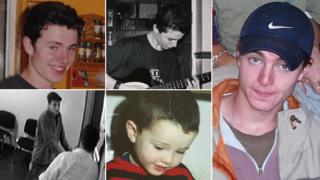 Further tests are being carried out on human bones found in woodland by police investigating the disappearance of a Suffolk teenager eight years ago.
Officers involved in the search for Luke Durbin discovered a bone in Ufford last month.
Suffolk Police said the initial tests had proved inconclusive.
More detailed testing is to be carried out to establish if the origin of the bone, which has been confirmed as human, can be identified.
A police cordon remains in place around the woodland area.
Luke, 19, who went missing in May 2006, was known to frequent the wood, and officers searched it as part of their ongoing enquiries when the bone was discovered.
Det Supt John Brocklebank said: "Until such time as we have a result from the forensic testing of the bone, I am reluctant to lift the cordon in case anymore searching at the site needs to be carried out, post identification."
Det Supt Brocklebank said the site in Ufford was used as a barracks during either World War I or II and later a landfill site, which means there may be an innocent explanation for the bone's discovery.
The last confirmed sighting of Mr Durbin was in Dog's Head Street, in Ipswich, at 04:00 BST on 12 May 2006.
Two men, aged 26 and 41, were arrested earlier last year as part of the murder investigation, but later released.