Suffolk County Council to make home care 'more local'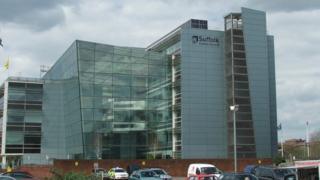 Changes in home care provision in Suffolk have been agreed with an aim to make them more local so the time carers spend in their cars is reduced.
Suffolk County Council wants to reorganise its contracts with the 60 companies who visit 4,500 people.
Some of the care providers currently cover the whole county.
The Conservative-run authority said the system needed to be more efficient with carers working more closely with local health and social services teams.
The council said the home care budget, including the meals-on-wheels service, was about £30m for 2013-14 and that would remain roughly the same next year.
'Can't rush'
The Suffolk Family Carers charity supports relatives of people who provide unpaid care for family members.
Jacqui Martin, its chief executive , said: "The concerns are the time that it takes [paid home carers] to do something in the home with an individual.
"You can't rush frail, elderly people, so we need to assess people in a much better way to find out what they really want and undertake that care in a way that doesn't stress them out."
Dr Alan Murray, county councillor for adult care, said: "Suffolk is a big rural county and there's not much point in carers from 60 companies spending most of their time in their cars going from client to client.
"We want to move to a more 'locality-based' system where there will be a concentration of clients for a company.
"We've agreed to work with the 60 companies to produce a more community-based system which ultimately gives us better quality and more compassion at home at a reasonable cost to the taxpayer."
The council's cabinet agreed that new home care contracts should be negotiated and they would be due to take effect early next year.