Lowestoft boat capsize: Drowned man named Peter Sims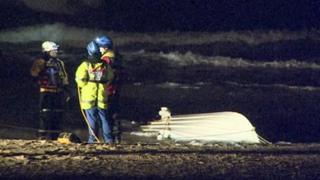 The identity of a man who drowned off the Suffolk coast when a boat capsized has been confirmed, after his relatives were traced in East Yorkshire.
The victim was originally named as Peter Chambers, 43, of Wellesley Road in Great Yarmouth, Norfolk.
Relatives in the Driffield area of East Yorkshire have since been traced by police and have confirmed his birth name was Peter Sims.
Mr Sims died on 10 March after being found in the water near Lowestoft.
Suffolk Police said documents found on Mr Sims's body and at his Great Yarmouth address identified him as Peter Chambers.
His friends also formally identified him by that name.
Further tests
Mr Sims's birth name was confirmed following an appeal in Yorkshire and an investigation by the coroner's office.
He was found face-down in the sea after a speedboat was discovered overturned off Ness Point.
Attempts were made to revive him but he was pronounced dead at the scene.
A post-mortem examination confirmed Mr Sims drowned, but further toxicology tests are expected to take place, police said.
Two men, named locally as Andrew Porter and Malcolm Sayer, also thought to have been on the boat, are still missing.